17 December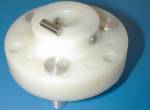 One of these days I'll learn not to use hardened steel pins... Just noticed that the left drive wheel was spinning freely. Must have broke hitting those bales in Wales. Thought the traction was a bit poor! 5mm steel pin fixing the hub to the axle, sheared into three pieces. I'm thinking of making some ally wheels that I can key directly to the axle. Aluminium pegs engage in the spokes of the wheel.

12 December
Pictures from the Wales Charity Event.

28 November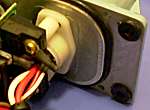 Modifying the steering servos.

20 November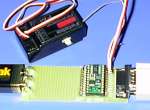 Just received a couple of Basic Stamp 2 microcontrollers. We'll be using one of these to create a mixer to provide differential motor speed control to improve the steering in tight turns.
You can see here the serial cable to the PC, on the right, the 9Volt battery on the left and the two feeds (steering and throttle) from the receiver. Just about finished the code, just need a dual digital potentiometer to interface to the 4QDs.

13 September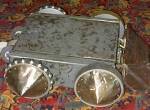 Pics of the bots at the Model Show in Oxford.

6 September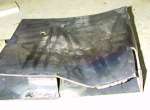 Been tuning the axe a bit. This was a 4mm welded steel box...

25 August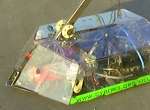 How we did at UK Robot Wars 1998...

7 August 1998
A sad day in the short history of fighting robots. Due to the greed of certain parties who care not a jot for all the people who make this sport possible, Robotica (this years US competition) has been cancelled. It would seem that Profile records, who got involved in the previous US Robot Wars competitions, but stopped this years event from happening, have somehow managed to get an injunction issued to stop Robotica from going ahead as well.
2 August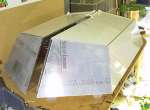 Progress
30 July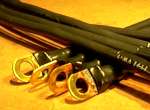 Made up a bunch of nice big cables for hooking up the batteries to the speed controller. Cable is electric welder cable from Toolmaster. Connectors are car battery cable connectors from Halfords. Shouldn't be much voltage drop there!

28 July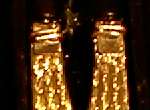 Think I've overcooked one of the monoblocs! Using a big 75Watt soldering iron, I must have left it on one of the terminals too long - one of the monoblocs has gone open-circuit. One spare down, three to go.
Braid is rated at 90 Amps, so should be OK for the 150 Amp peaks that the motors can pull. As the heats are only 5 minutes you can get away with drastically overrating all the components like this. Hopefully.

26 July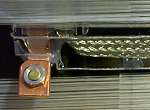 Rebuilt the battery packs with heavy-duty connections. Had quickly connected them up just to get me running for the rehearsal. The manufacturers recommend providing terminal connections that can help dissipate the heat generated during high-current discharges. Packs are stuck together with hot glue then bound with glassfibre reinforced packing tape.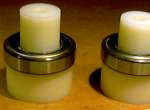 Started work on new steering pivot mountings. Replacing upper thrust bearing with conventional ballrace to provide lateral location. Have replaced servos with much more powerful versions - the gears on one of the old ones stripped two days before the rehearsal, which caused a bit of a panic! They were barely able to turn the wheels when KHz was stationary and that was without a lot of equipment on board.
Don't think I'll have time to make servo savers. Hopefully the new servos will be strong enough to take the abuse.

19 July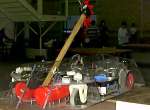 KillerHurtz done good! Only turned a wheel for the first time at 3am. Four hours sleep then off to the rehearsal. Hadn't really driven it until I got there. Worked perfectly out of the box. Left lots of nice black lines on the concrete from the wheelspin! And we're 4kg under-weight with everything onboard, including all armour. Pix from the rehearsal.

15 July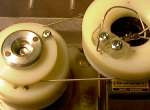 Just assembled the first steering cable. Hmmm... doesn't work very well - lots of friction and easy to stop wheel turning. Will have to do for the inspection on Sunday, but needs a major rethink.
Cable is 75lb breaking strain plastic coated steel fishing line

12 July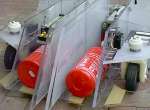 A long weekend's work.

5 July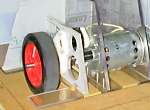 Good progress this weekend. Floorpan cutout. Finished sizing main bulkeheads. Motors mounted. Gearboxes completed.
We might even be running by the 19th at this rate!

28 June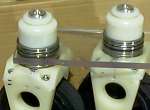 Got the front end bits finished at last. It's taken over two weeks!! More

27 June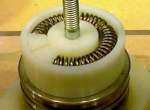 Servo saver internals. Unlike most 'bots, we're using conventional steering, driven by one servo for each front wheel. Althought they are heavy duty sail-winch servos with metal output gears, don't fancy risking damage to them at 50 quid each! Springs absorb shock if (when!) wheel gets thumped.
Nightmare getting those springs in.

24 June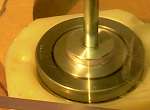 Steering pivots coming along slowly. Steel ring is a large thrust bearing. No, that's not a chunk of emmental it's sitting in!

21 June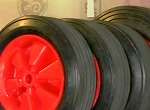 Decided to machine off about half the rubber from the tyres to save some weight. Compare with original in background. Saved about 3lb in all.

20 June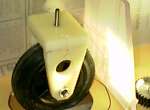 Another slow day in the workshop...
Front wheel assembly nearing completion.
Wheels are plastic castor wheels with rubber tyres and built-in needle roller bearings

16 June
Gave up waiting for the Nikon CoolPix 900 digicam and bought me a Yashica KC600. First pic is of uprights, below. Not bad, seems to work well with the flash. OK for the web.
15 June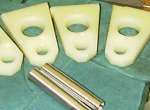 Finished the front uprights and axles.

14 June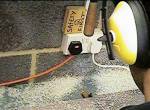 Dominic routing the top bevelled edge on one of the longitudinal bulkheads. Seems to take hours making all the preparations for an operation (making jigs etc) which then only takes a couple of minutes to perform.

13 June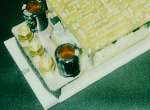 Got the 4QD-36-300 speed controller - it's BIG, but it can handle 300amps continuous.

8 June
Testing Coke bottles...
7 June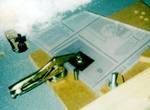 Routing the edges of the transverse bulkheads. Material is 9.5mm Lexan. Worth spending the time on the jig - now have seven perfectly finished pieces, all identical.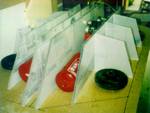 KH starts to take shape...

5 June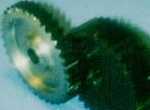 Lose that lard! Had a go at lightening one of the gears yesterday. Damn, steel is nasty stuff to machine. End result OK, if a bit rough - original gear (on right) 795g, new version 170g!
Picked up nice 5 port, 24Volt solenoid valve and fittings for main weapon.
When is Nikon's nice CoolPix 900 digital camera going to be released here, so I can take some decent pix, not these nasty scanned polaroids.

2 June
Got hold of a couple of fire extinguishers to use as air bottles for the pneumatics. Having fun playing with the dry ice from the CO2 one.
Sent the contracts off to Mentorn. Taking some more photos of current progress for sending to Mentorn by 6th July, as requested in the letter. Fortunately had already scanned the ones that ended up in the wash!
30 May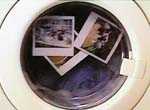 Guess who left the Polaroids in his shirt pocket??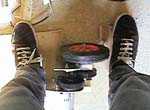 Testing the protoype drive train - can just stop the tyre spinning on the concrete if two of us stand on it - and we'll be using two motors! Have worn all the tread off the tyre already.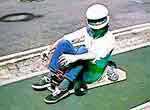 Test buggy for the powertrain. Brakes? Steering?? Naaah! Why do you think Dom's wearing a crash hat? Excellent results - vicious acceleration, good top speed and no failures.

26 May
Got the club pack this morning. - great, if short, video highlights of '96 US final. Sent my £13 off for the full 50 minute version. My club membership number is 1341.
25 May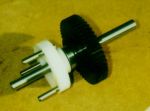 Axle with drive pegs (for wheel) pressed into nylon hub. That gear could do with losing some weight! I'll also make the pegs for the final version from ally.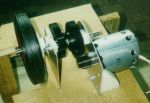 Completed prototype drive train. Just need to pin the two larger gears to the shafts, then we can test it out.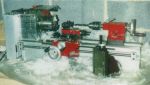 Emco lathe, already covered in swarf. Vertical milling slide in foreground, complete with scar where I misjudged the milling depth.

22 May
Workshop finished.
Motors were delivered today - exactly what I was looking for.
Picked up lathe. Now I have to learn how to use it!
Started building prototype drive train.
21 May
Ordered motors and 4QD-300-36 speed controller. Delivery is about 10 days for the controller. Ordered a 36Volt controller just in case there is enough spare weight to add another battery. Fat chance!
17 May
First, build a workshop! Currently installing several large worksurfaces in the garage.
Hopefully picking up an EMCO Compact8E lathe on Friday.
Found some suitable motors, thanks to the unselfish help of a fellow competitor - thanks Mike! They're in stock and they're a fraction of the price of the Litton's.
16 May
Yippee!!! Got our contracts in the post this morning. Now the serious work begins...
Think we're going to have to go down on the size of the pneumatic resevoir we're using - we're getting too close to the weight limit, need bigger batteries and the damn thing is just too heavy!.
15 May
Litton Scientific, the suppliers of the motors I was hoping to use, phoned today to say that delivery is about 90 days!!! As that's after the weigh in/scrutineering/inspection on 18th July, I think I'll have to start again...
14 May
Sent off the application form today. Keeping my fingers crossed...
9 May
Just got a mail from Dan saying that his RC interface for 4QD speed controllers should soon be ready.
6 May
Decided on the motors - how about two x 900watt! Monster torque. Simplifies design now that we're not going for four wheel drive. Top of the range 4QD controller should just about handle them. Apparently Dan Danknick of Team Delta does a circuit for connecting these directly to an RC receiver, rather than having a servo driving a potentiometer like the house robots had.
1 May
Finally got round to measuring torque output of motor and realised that power calculations were wrong (torque = power/speed, where speed is in radians/sec, NOT revs/sec) - four x 160 watts not nearly enough - the search is on for much more powerful motors.
28 April
Picked up Futaba T6X 6 channel 40Mhz PCM radio set. Very nice - can do all the steering mixing in the tranny.
26 April
First firing of prototype weapon - WOW! Look out! And final weapon will be about three times more powerfull!?*! Prototype worked first time with no problems. Not bad considering the forces involved, though prototype was considerably over-engineered. Final design will be much lighter and more highly stressed.
23 April
Finish prototype weapon assembly - ready for first test firing, when I feel brave enough!
Received competitor application form - now we have to compose our reply.
21 April
Picked up pneumatic cylinder - what a beauty!
20 April
Finished assembly of weapon 'head'
Fixed steel plate to floor of workshop with three heavy duty expanding bolts, to hold weapon down - this baby will produce a LOT of recoil!
19 April
Started assembly of prototype weapon
18 April
Picked up nitrogen cylinder from BOC. Almost tempted to try and fit it into 'bot!
17 April
Picked up steel plates for construction of prototype weapon. Final version will all be ally and magnesium.