1 March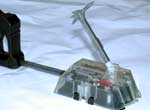 Just got some more toys from BattleBots - the Third Edition of Jakks Pacific incs Grip n' Grapplers features KillerHurtz. Vicious axe action!

The R/C Custom Series Toys (see below) are now available from Amazon and K B Toys.
Also see the Tiger Toys website.

16 Feb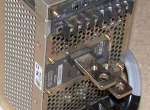 Picked up a beast of a power supply at BattleBots - it puts out up to 125 Amps and is adjustable from 8 to 14.5 Volts. Perfect for powering several Astroflight peak chargers, or for charging Hawker Genesis batteries fast. Weight: 8.2 kg (18 lbs)

Available from Brian Nave of Team Logicom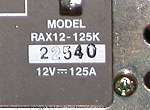 Specs on the endplate. Click the thumbnail for the big picture. Note the AC Input requirements on 120V!

29 Jan
If you attended Robot Wars Exteme Warriors at Pinewood Studios and got your photo taken with TERRORHURTZ, then see them here
26 Dec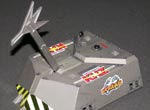 Got a nice Christmas present from BattleBots - four of the Radio Control KillerHurtz toys made by Tiger Electronics. Great fun. Tank-style steering with the two transmitter sticks (non-proportional), with two extra buttons - one gives full speed ahead, the other high-speed spin. No independant control of the axe, it just pecks as it goes forward.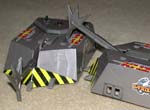 Only available in the US at the moment, from Walmart, Amazon, Target etc.
Shown without the black side wedges here. If these are fitted, they can be knocked off in battles, representing damage.

5 May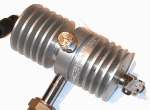 New CO2 regulator.

4 May

New front wheels.

9 Jan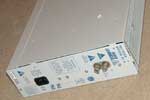 Found a nice, cheap, power supply suitable for charging Hawker batteries.