Oxford meet - 26 June 2000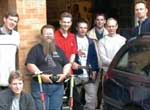 Had a bit of a robot meet at my place at the weekend. Razer, Mortis, Suicidal Tendancies and Anthrax were represented. Arthur brought along Mortis and Rob Knight joined us at the pub. Martin Gutkowski et all brought along Anthrax, though it wasn't running. Suicidal tendancies brought along bits of their machine to show the damage done at BattleBots.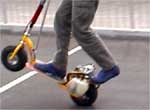 What with Ian Lewis' own, beautifully made goped-like machine, with pneumatic tyres, chain drive and kick-tail, we had three to play with.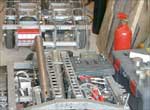 Put KHz, Anthrax and Mortis in the garage while we went to the pub...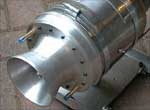 Arthur brought along a gorgeous little jet engine. This one produces 95 lbs of thrust! Strap two of these to your back and you could take off...
See the Suicidal Tendencies site for video of it running.